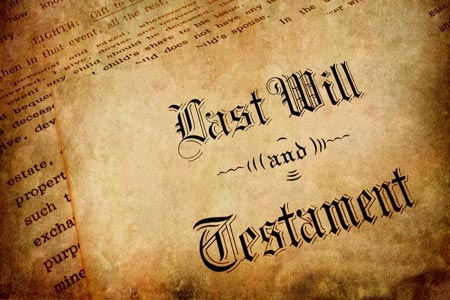 A Look At The Light (And Weird) Side Of Some Famous Wills
Naturally it is wise to see a lawyer to have your Will properly prepared but sometimes the estate planning tools are cast aside and some strange clauses prevail.  Here we look at some odd clauses in the Wills of some famous people for a light hearted moment.
NAPOLEON 

BONAPARTE
Following his death in 1821, his Will directed that his head be shaved and his hair be distributed among his friends.
JACK 

BENNY
After he died in 1974 Jack Benny's Will directed that a single long-stemmed red rose was to be delivered to his wife every single day for the rest of her life!  It seems the iconic American comedian and actor from the 1930s to the 1960s wanted to leave his wife a simple reminder of his love for her.
HARRY 

HOUDINI
The famed magician believed in life after death.  He died in 1926 after his appendix ruptured. He wanted to make sure that when he came back to visit his wife, she would know it was him.  He apparently was concerned about frauds bothering her so he left her a secret code in his Will – 10 randomly selected words – she could use to corroborate the identity of any spiritual presence.  He stated in his Will that she should hold a séance every Halloween following his death and that he would communicate with her through those 10 words.
It is not known if Mrs. Houdini was ever able to use that secret code.  However, we do know that Harry Houdini left books on magic and the occult to the American Society for Psychological Research but only if the research officer and editor of its journal resigned.  He refused and the books went to the Library of Congress!
SAMMY

DAVIS JR.
Although it sounds as though Sammy Davis Jr. had good intentions by leaving his wife, children, and friends money and memorabilia, at the time of his death in 1990, Sammy Davis Jr.'s liabilities outweighed his assets.  His beneficiaries were therefore unable to claim their bequests and it is unclear whether his wife actually received anything.
FRED 

BAUR
Fred Baur was the creative mind behind the Pringles potato chip can and received a patent for his design.  It seems only fitting, then, that his inventive mind would want something different after his death.  After passing away in 2008, his Will directed his family to bury part of him in a Pringles can.  They did: his family filled up a can with his ashes and buried the can with the rest of his remains.
ROBERT LOUIS 

STEVENSON
The author of the classics Treasure Island and The Strange Case of Dr Jekyll and Mr. Hyde passed away in 1894.  He left a friend something she would never forget.  Annie H. Ide's birthday fell on Christmas Day and she had confided in Stevenson feeling cheated out of a real birthday.  So as part of his last wishes, he left her his own birthday of November 13!
GEORGE HARRIS
(NOT THE BEETLE!)
George was not famous before he died.  He was a Canadian farmer who died in a tractor accident in 1948.  When friends went back to the scene of the accident days later, they noticed some writing scratched on the fender of Harris' tractor.  It read "In case I die in this mess, I leave all to the wife. Cecil George Harris."  They removed the fender from the tractor and submitted it to the Court, which duly admitted it as Harris' Last Will and Testament.
SAMUEL

BRATT
It seems Samuel used his Will to get even with his wife.  She never allowed him to smoke his favourite cigars. When he died in 1960, he left her £330,000 but on the condition that she had to smoke five cigars a day.
PRINCESS

DIANA
The details of Princess Di's Will have recently been made public.  Predictably she left her entire estate in equal shares to Prince William and Prince Harry.  However the two executors of her Will, her mother and her sister, weren't satisfied with the terms of the Princess' Will, and in December 1997, just four months after her death, they had the terms of her Will varied, to allow for a cash bequest to her butler, some specific gifts to her 17 godchildren and changed the age that the two Princes could access their share of her estate from 25 years to 30 years.
MICHAEL

JACKSON
Since Michael Jackson's death on 25 June 2009 there have been some unsuccessful challenges to his Will, which has essentially left everything to the Michael Jackson Family Trust, which leaves everything to his mother, his children and various charities. Interestingly his estate generated roughly US$500,000,000 in the three years after his death – more than any single living artist!
WILLIAM

SHAKESPEARE
Shakespeare died in 1616, and very strangely, left a clause in his Will that his wife, Anne Hathaway, should receive his "second best bed".  Although in the 17th century it was not usual for one to gift one's bed in a Will, as a comfortable uninfested bed was quite a windfall, leaving his "second best bed" to his wife has led to much speculation about his relationship with her.
CHARLES
DICKENS
Author of many much loved novels, such as Oliver Twist, Great Expectations, and A Tale of Two Cities Charles Dickens died in 1870, and there was a term in his Will that those "who attend my funeral wear no scarf, cloak, black bow, long hatband, or other such revolting absurdity".  He also set out in his Will that he was not to have a public funeral.  These wishes were completely ignored and he ended up having his funeral as a national event with all mourners wearing full funeral regalia.
JANIS

JOPLIN
Joplin died on 4 October 1970 after a long struggle with substance abuse at the age of 27, but famously left $2,500 (a tidy sum at the time) to pay for an all-night party for 200 guests at her favourite hotel in California.
GENE

RODDENBERRY
The creator of the cult phenomenon Star Trek, Gene Roddenberry who passed away in 1991 at the age of 70 years fittingly left a clause in his Will for his ashes to be scattered in space.
If you want to include some specific clauses in your Will give Lynn & Brown Lawyers a call on 9375 3411 today.
About the authors:
This article has been co-authored by Peter Heazlewood of Lift Legal and Jacqueline Brown who is a director at Lynn & Brown Lawyers.  Jacqui has over 19 years' experience in legal practice and practices in family law, mediation and estate planning.  Jacqui is also a Nationally Accredited Mediator and a Notary Public.