Have Questions About Pricing?
Contact our friendly team for a chat about how our pricing works.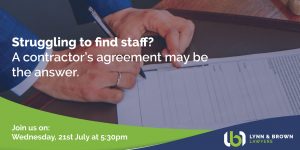 Struggling to find staff? A contractor's agreement may be the answer.
With border closures still occurring and our WA economy strengthening, its common that businesses, as they become increasingly busy, will use sub-contractors to fill gaps in the labour market. Also, contractors are often used for specialty work which you might require to complete part of a larger scope for a project.
If you are a contractor or engaging sub-contractors, please join us for a free seminar where we will discuss contract agreements and the important details you must have in place.
In this seminar we will cover:
– Subcontractors vs employees
– What to include in an agreement?
– Issues that can arise, including case studies
– Contract terms and payment terms
– Risk minimisation
– What if something goes wrong?
This seminar is free to attend. Light refreshments and snacks will be provided.
Click HERE to book your ticket.