Have Questions About Pricing?
Contact our friendly team for a chat about how our pricing works.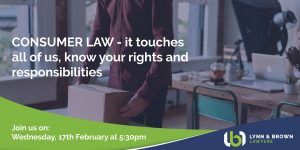 Consumer Law – Know your Rights and Responsibilities
Are you a business owner in Western Australia or considering starting a business?
All businesses in Australia have to comply with the Competition & Consumer Act, it's important to know your rights and responsibilities under it, including:
Pricing & Promoting your business;
Unfair contract terms;
Guarantees & Warranties; and
Unconscionable Conduct.
We will look at these issues from the point of view of the business providing the goods and/or services and the consumer's position to these issues.
This seminar is free to attend. Light refreshments and snacks will be provided.
Click HERE to book your ticket.