Have Questions About Pricing?
Contact our friendly team for a chat about how our pricing works.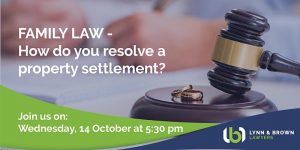 Family Law – How do you resolve a property settlement?
Join Lynn & Brown Lawyers for a free seminar discussing these matters in detail. Light refreshments and snacks will be provided. Topics include:
Ensure a former spouse/partner can't make a future claim
Ways to stay out of the Family Court
How to legally avoid paying stamp duty
Many other tips for those going through the process or those who may be advising them
Click HERE to book your ticket.