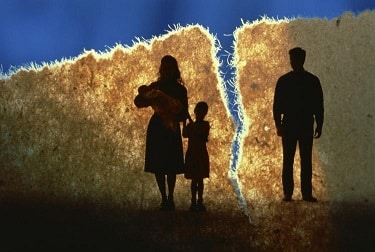 January – The Season Of Divorce
---
January is one of the busiest times of the year for family counsellors, divorce lawyers, and the family court. It is the month of reflecting and making resolutions and changes, and it is the time when couples who have taken the holiday period to give their relationship one last try decide on a future together or apart.
Deciding to separate is a life changing decision, and the weeks and months that follow can be very overwhelming. There is a lot to think about once the decision to separate has been made. Decisions about how to tell your children, friends and family, about housing and moving, about your and your children's futures, about property division, financial support, superannuation, investments, taxes, will need to be made.
We have compiled a separation action list to remind you of all the things you need to think about if you or someone you know have decided to separate and to help make the initial stages of separation a little less overwhelming. It is not an exhaustive list, and it is important, especially for your own physical and mental wellbeing, to get professional emotional, legal and financial support to help you deal with this life changing event.
SEPARATION ACTION LIST:
NOTE YOUR DATE OF SEPARATION:
This is the date when you finally decided and discussed with your partner that the relationship was over. This date is relevant if you need to apply for divorce and for your property settlement.
REDIRECT YOUR MAIL:
Whether you relocate or not, make sure that you receive your mail and that it is kept confidential, redirect your mail to somewhere more secure, such as a PO Box.
CREATE A SEPARATE BANK ACCOUNT:
Make sure your income is redirected to a bank account only you have access to.
DEAL WITH YOUR JOINT BANK ACCOUNTS AND CREDIT CARDS:
Advise your bank that you are separating and make arrangements if necessary for both parties to approve any transaction and for credit card limits to be reduced (your bank will be able to advise you in detail about how to deal with your joint accounts).
GET YOUR FINANCIAL RECORDS TOGETHER:
Getting your financial history together (records of contributions and transactions etc) is very important and will save you time and money in the long run. Keep originals/copies of all relevant financial documents.
CHECK YOUR INSURANCE POLICIES:
Check whose name they are in and change the beneficiaries if necessary.
CHECK YOUR SUPERANNUATION:
Check your superannuation balances and obtain legal or financial advice if your superannuation arrangements are more complicated (e.g. if you have a Self Managed Super Fund).
MEDICARE CARDS:
Either ask your former partner to remove themselves from the card and set up a new account for themselves, or remove yourself and set up your own new account. If you have children make sure your children are on your account.
INFORM YOUR CHILDREN'S SCHOOL:
Inform the school about your separation and ensure that the school has contact details for both parents.
REVIEW YOUR WILL AND EPA:
Review your Will and your Enduring Power of Attorney. Only a Divorce Certificate will invalidate your Will, therefore it is important to revoke and make new ones if necessary upon separation.
PASSWORDS, PINs AND AUTHORITIES:
Decide whether you need to change your passwords, PINs and the authorities on certain accounts, such as for your ATM cards, internet banking, personal email, phone/internet accounts, Facebook and other social media accounts, iTunes, PayPal, Amazon, etc.
PROFESSIONAL ADVICE
Getting through this checklist will help you get on the right track and give you some breathing space. However, separation is a life changing decision for you and your family, and not everyone's situation is the same. Make sure you obtain professional legal and financial advice about how to make the best decisions for yourself, your family, and your property.
At Lynn & Brown Lawyers we have a team of experienced family lawyers who understand that separation and divorce can be one of the most stressful times of your life, and that it is important for you to be making the right decisions for you and your family, please don't hesitate to contact us for an appointment today.