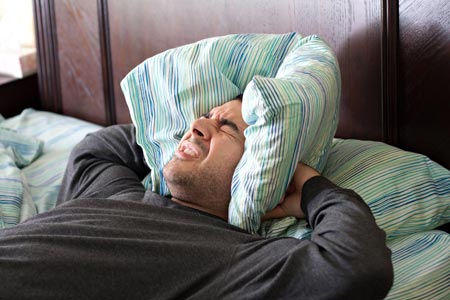 Noisy Neighbours
I HAVE A PROBLEM WITH NOISE COMING FROM MY NEIGHBOUR'S PROPERTY.
WHAT SHOULD I DO?
It is best to speak to your neighbour about the problem and see if you can reach a solution. If this doesn't work, you may need to get outside help. You may find an independent person may help you resolve the problem.
WHAT IF I HAVE A PROBLEM WITH NOISE FROM
A NEIGHBOUR'S CAR OR MOTOR-BIKE?
Many local governments have rules that deal with vehicles that are noisy or particularly either early in the morning or late at night. It is best to look at your council's webpage and read what their rules are.
If you have a vehicle noise problem that you cannot resolve with your neighbour you can contact your local government to see if it can assist.
HOW CAN I COMPLAIN ABOUT A NOISE PROBLEM?
If your neighbour is having a rowdy, late night party, try asking them to keep the noise down. If this does not work, you may have to call the police. If they believe the noise is unreasonable, the police can take action. Your local government authority may be called in to measure the noise level.
The same rules apply to regular noisy parties, loud music or televisions, bands playing, machinery, pool pumps and construction noise. If any of these are a problem and talking to your neighbour does not work, you may come to us for assistance.
WHAT CAN MY LOCAL GOVERNMENT DO
ABOUT A NOISE PROBLEM?
Local governments can prosecute anyone making unreasonable noise or breaching a local government direction or notice. An environmental health officer will usually first visit the owner of the property where the noise is occurring and advise them of the complaint. If this meeting does not solve the problem, arrangements may be made for noise readings to be taken. This will help work out if the noise level is above the limit.
WHAT ABOUT A
HOUSE OR CAR ALARM?
The police have powers to deactivate house or car alarms if the alarm is making unreasonable noise and has been sounding for more than 30 minutes.There may be costs for the offending party if the police have to call out an alarm technician to disconnect the alarm.
WHAT ABOUT EXCESSIVE
NOISE FROM BARKING DOGS?
Noise from dogs is controlled by the Dog Act 1976 (WA). Again if speaking to your neighbour about the problem doesn't lead to a solution contact your local government ranger.
If at any time you are not able to resolve this issue yourself, please contact our office and we will be happy to assist you.  It may be the case that if all else fails you may be entitled to obtain a misconduct restraining order preventing your neighbor from engaging in the offensive behaviour.