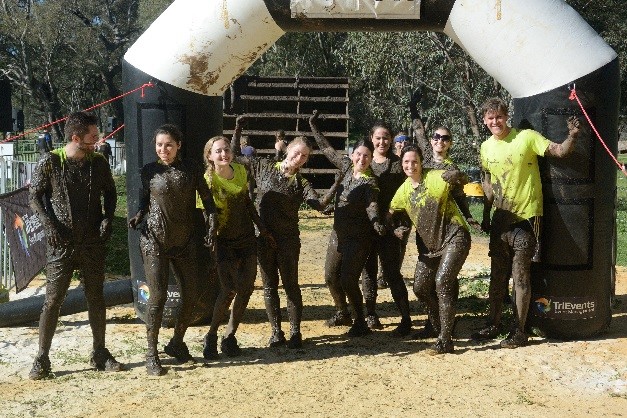 Getting Muddy At The Western Mudd Rush
On Sunday, 14 August 2016, some of the Lynn & Brown team participated in the Western Mudd Rush at the State Equestrian Centre in Brigadoon, and what a beautiful day it turned out to be!
The team took just over 2 hours to move through the 21 obstacle, 8 km course and finished up muddy and still laughing.
It was a day full of fun and laughter and we worked great as a team outside of the office too!  Muscles were used to help each other over the walls and obstacles as well as helping us through the thick gooey mud towards the end of the course.
Some of the memorable moments, some gracefully caught on camera and some not so pleasant, but as I said…memorable, were:
The ice bath – leaving our limbs with pins and needles ready to tackle the next obstacle of swinging from one tyre to the next!
The 3m wall that required everyone to pitch in to assist in lifting team members high enough to scale the wall and some to assist in safely landing on the other side.
The slippery dip – a fast paced slide that can leave a mark if too close to the side, but gives you a reason to scream out with enjoyment as you splash through the muddy water at the end.
Let's not forget the muddy surprise as they called it…the long stretch of sticky mud that you have to crawl through to get to the last obstacle of the day – the mud that coats everything and stays with you until you get home!
Speaking of the last obstacle of the day – the wall of honour! Getting to the top and getting over marks the end of an enjoyable day, fists held high saying YES!  We made it and we survived!
We are looking forward to making this an annual event that we can laugh at over and over again.
Here are some photos of the day that may provide you with some giggles of your own!