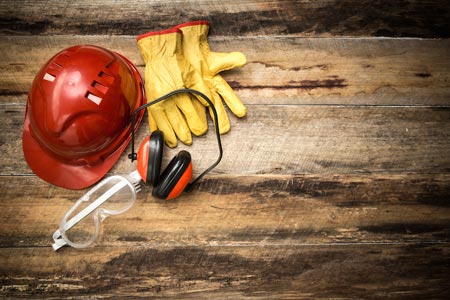 Do You Run A Business? Could You Be Liable For A Big Fine? Know Your OHS Responsibilities.
If you fail to meet your Occupational Health and Safety ("OHS") responsibilities you could be liable for significant fines and you could potentially receive a criminal conviction if prosecuted. It is crucial to know your responsibilities in order to provide a safe working environment for your staff and to protect your business.
In Western Australia approximately two people are injured every hour resulting in that employee having to take at least one day off work with an average of 4,241 people every year requiring 60 or more days off work in order to recover from their injury. On average one person dies every 22 days as a result of a workplace accident. These are very serious statistics and show just how important it is to ensure that you operate a safe workplace, not only to secure the safety of your employees, but to ensure that you minimise the amount of days missed by your staff through injury.
The Penalties
In Western Australia OHS is governed by the Occupational Safety and Health Act 1984 and the Occupational Safety and Health Regulations 1996, which imposes obligations on employers to make their workplace safe for all people. The failure to meet these obligations can result in very significant consequences including receiving a criminal conviction and fines up to $625,000.00.
In 2014 WorkSafe, Western Australia's regulatory body for OHS, prosecuted, and successfully convicted, 14 people for breaches of their requirements under the legislation. This number was lower than previous years when compared to the 18 convictions obtain in 2013 and 37 convictions in 2012.
What are your responsibilities?
Employers have the responsibility to prevent their employees from being injured or harmed in the workplace. Employers must know of the potential risks of the workplace and eliminate those risks by taking the right precautions to manage and control them. The OHS regulations provide for a range of specific obligations imposed on employees when certain risks arise during the course of employment. The regulations are divided into two sections, one for employers generally and the other for industry specific risks.
Some of the obligations placed on employers generally across all industries, are to:
Maintain the workplace, plant and systems so that employees are not exposed to any hazards;
Inform the employees of any hazards or risks that form part of the work;
Provide an induction and training to all employees;
Have a suitable evacuation plan in case of fire or other emergency;
Supervise all employees to ensure that they are able to work safely; and
Provide protecting clothing or equipment to staff to minimise risk where possible.
Industries or specific types of work that have additional obligations imposed on them include:
Work where dangerous chemicals or fumes are present in the air;
Work which involves excessive noise;
Work that involved the risk of falling, such as working whilst suspended from a building, working on a roof or working in a wet environment;
Working with gas and electricity;
Working on scaffolding;
Working in confined spaces;
Working with concrete;
Work involving welding, moulding or casting, spray painting, abrasive blasting, excavation, earthworks and demolition;
Driving commercial vehicles;
The construction industry generally; and
Dealing with hazardous substances (such as poison, asbestos or carcinogenic materials).
In order to assist industry, the Department of Commerce have compiled a list of approved Codes of Practice which aim to assist employers to comply with their safety requirement in specific industries.
Conclusion
In order to determine what your OHS obligations are as an employer it is necessary to firstly identify what type of work will be carried out at your workplace or by your employees. Once you have identified the types of work being performed you can then look at the possible strategies which you can utilise to reduce the risk of injury occurring at your workplace. With an effective strategy in place you will put yourself in the best possible position to ensure that your workplace and employees are protected.
When creating your practices and procedures it is crucial that you know what your specific legislative obligations, are in order to make sure that every aspect of your business is protected. When your business is involved in various trades, or uses processes mentioned above, it is recommended that you obtain legal advice to determine what you are legally required to do because the consequences for not meeting those minimum standards are very significant, with potential fines of over $600,000 and criminal convictions.
For more information on the responsibilities of employers you can visit the WorkSafe website who have published information on specific risks which may assist you. You can also contact the team at Lynn & Brown Lawyers on 9375 3411 who can advise you of your obligations and help develop your practices and procedures to ensure that you are meeting your requirements.
About the author
Aaron Plenderleith is a law graduate with Lynn & Brown Lawyers. Aaron's specialties include legal writing, legal research, criminal law and employment law. He values providing dependable and reliable advice to clients.