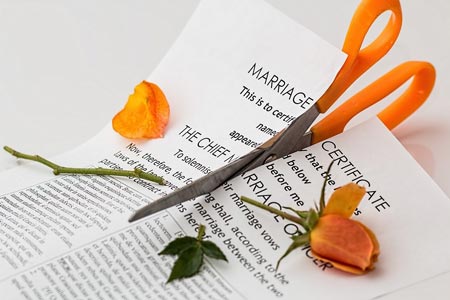 10 Things To Know About Divorce. How To Get The Head Start On Your Ex-Partner
Going through a divorce can be an ugly and stressful experience. Not knowing what to expect from a legal perspective can add more stress. We've compiled a list of 10 things which you should know if you are going through, or preparing to go through, a divorce. Survive the ordeal! Come out in front.
You have to be separated for 12 months to be able to get a divorce.
People are often unaware that they have to be separated for 12 months before being able to obtain a divorce. For this reason, it is important that you are able to provide your lawyer with your date of separation. That is, the date on which you and your spouse considered that your relationship had ended. Once 12 months from that date has passed, you can obtain a divorce and legally end the marriage.
Divorce and property settlement are two different legal processes
Obtaining a divorce and dividing up the marital assets and liabilities are two separate and distinct legal processes. While you must wait for 12 months from the date of separation to obtain a divorce, you may begin the property settlement process immediately. Property settlement is the process by which the parties either negotiate, or the court makes orders as to, how matrimonial assets and liabilities will be apportioned between the parties. A property settlement can also be obtained by de facto couples.
Start the processes as soon as possible
It is important to commence the processes for divorce and/or property settlement as soon as possible. There can be adverse consequences for not doing so. For example, if you and your partner have separated but not divorced, and you subsequently pass away, your ex-partner may have a claim to your estate. If you do not commence property settlement proceedings as soon as possible, then your partner may incur further liabilities for which you may also be liable. Conversely, if you do not commence property settlement proceedings and you acquire further assets, your ex-partner may end up receiving some of the value of those assets through a property settlement.
Know the value of your income/assets and liabilities/expenditure
This information will make sure that your initial appointment with your lawyer is as productive as possible. It will enable your lawyer to estimate what you may be reasonably entitled to. Consider the value of assets such as real estate, shares, personal items, vehicles, superannuation, companies and trusts. Your income earning ability and your ex-partner's income earning ability will also have an effect on your property settlement. Similarly, consider your expenditure and what liabilities you and your ex-partner have individually and/or jointly.
Calculate your future financial needs
Your future needs, and your ability to meet those needs, will in part determine the outcome of a property settlement. Prior to commencing negotiations, it is important to have a reasonable and realistic idea of what your future financial needs will be. It may be necessary to obtain professional financial advice in this regard.
Be prepared for negotiations
Property settlement negotiations can be one of the most stressful parts of a marriage breakdown. Each party will likely feel that they are entitled to receive more than the other and negotiations can reach a stalemate. While you should negotiate from a firm but fair position, remain mindful that unnecessarily drawing out negotiations will increase each party's costs, thereby decreasing the amount that each party will walk away with. Further, if the parties are unable to negotiate a property settlement agreement, the matter will have to be determined by the Family Court. This is can be an extremely expensive alternative.
Be prepared for unexpected expenses
Unexpected expenses can arise throughout the course of property settlement negotiations. For example, valuations may be required for assets such as real estate and businesses. As mentioned above, it may be necessary to engage financial professionals for their advice. Legal fees can be stressful enough and it is important that you be aware that legal fees won't necessarily be the only costs that you incur when going through a divorce and/or property settlement.
Children's Issues
If there are children of your marriage their living arrangements will be required to be addressed on the breakdown of the marriage. The children's living arrangements can be determined by agreement between the parents. This agreement can be captured in a document known as a Parenting Plan. If an agreement cannot be reached the Family Court will make a decision on who the children live with and who they spend time with.
Child Support
Depending on who the children live with, and for what amounts of time, you may be eligible for or, alternatively, liable for child support. Be aware that child support is generally determined separately of the issues that will be dealt with by your lawyer. The Child Support Agency will assess your liability or eligibility to receive or pay child support. However, in some circumstances parties may agree that one party will receive a lump sum payment from the other in lieu of periodic child support.
Review your Will, life insurances and superannuation
If you have a Will, it will be revoked once you are divorced. It is important to do a new Will to reflect your changed circumstances. Even if you are separated, but not yet divorced, you should consider revising your Will.
If you have life insurance and/or superannuation you should also check your nominated beneficiary to ensure your ex-partner will no longer benefit from such products.
Do you want to know more, or do you know someone who might? Please feel free to give Lynn & Brown Lawyers a call on 9375 3411 or share this article with someone who may need it.
About the author
Stirling Owen is a restricted practitioner with Lynn & Brown Lawyers. He was admitted as a barrister and solicitor of the Supreme Court of Western Australia in 2013 and his skillsets include employment law, commercial law and Wills and estate matters.